Does Mother Still Know Best or Has Google Replaced Mom's Advice?   
The phrase 'mother knows best' has stood the test of time. But even when Mom or a close friend suggests a new restaurant to try, we are quick to pull out our phone and Google the restaurant before making a reservation. Mom is a trusted source but reading reviews and gaining insight about a business in a matter of seconds is invaluable and has become second nature.
You've probably heard the question, 'if a tree falls in a forest and no one is around to hear it, does it make a sound?'. The same can be applied online: 'if you have a business, but it isn't on Google, does it even exist?' A Google Business Profile is (GBP) important for you to get discovered in search results and be chosen by potential customers using the world's largest search engine. It is an essential part of your local marketing strategy and making sure your GBP is optimized and accurate will help you stand out from the competition and show up on the first page of Google.
Here is how to set up your Free Google Business Profile:
Sign in to Google Business Profile Manager– If you're logged into a Google Account, you're automatically logged into Business Profile Manager. Otherwise, enter usual Google account login or Create a new account.
Add Your Business– Enter your business name. If it does not appear in the drop-down menu, click Add your business to Google. Then select the category for your business and click Next.
Enter Your Location– If you have a physical location, select Yes- then add your business address. You may also be asked to position a marker for the location on a map. Then click Next.
Fill in Contact Information– Enter your business phone number and website address so customers can reach you. Then click Next.
Verify Your Business– Enter your real physical address and click Next. Physical businesses will need to get a postcard by mail to verify their location. Once you receive, enter your five-digit code and click Verify or Verify Business and then Next.
Customize Your Profile– Enter your business hours, messaging preferences, description, and photos, then click Continue. From your dashboard, you can manage your profile, view insights, manager reviews and messages, and create Google ads.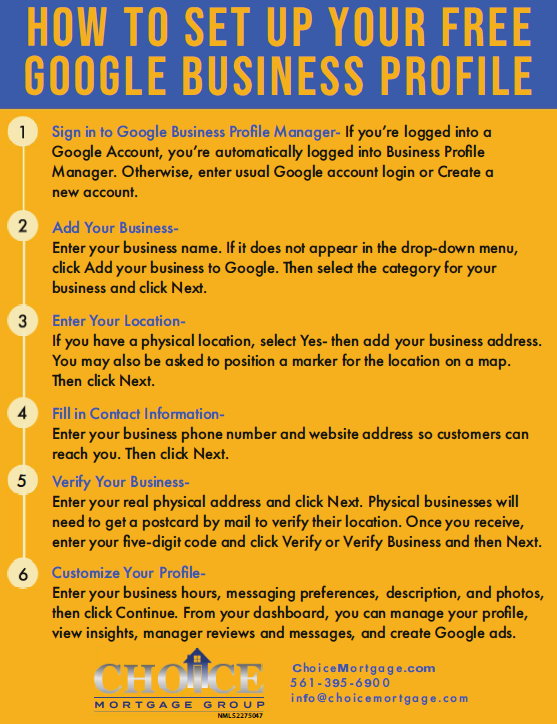 Here are more reasons how having a Google Business Profile can help your business:
Increased visibility and credibility: A GBP can help you appear in local search results when people search for businesses like yours. It also displays important information such as your website, phone number, and customer reviews, helping to establish your credibility.
Improved customer engagement: A GBP allows customers to leave reviews, ask questions, and view photos, which can help increase engagement with your business and build trust with potential customers.
Free marketing: Creating and maintaining a GBP is free, and it can serve as a powerful tool for marketing your business to a local audience.
Access to insights: Your GBP comes with a dashboard that provides insights into how customers are interacting with your business online, including how many people are viewing your profile and visiting your website.
Better search engine optimization: A well-optimized GBP can help improve your search engine rankings, making it easier for people to find your business when searching online.
Google reviews boost the visibility and authority of your GBP. You can generate review requests for your customers right from the GBP dashboard. Once your Google reviews start trickling in, you can also respond right from the dashboard. It is important that your business responds quickly, professionally, and concisely to every review. It shows customers that you care and signals to Google that this is an active business profile.
Choice Mortgage Group
Choice Mortgage Group is dedicated to helping people improve their financial situations and create lasting memories through home ownership – one loan at a time. Our team of mortgage experts build customized solutions for each of our clients, based on their specific situations, goals, and objectives.
Specializing in residential mortgage lending for over 25 years, our programs include conventional and government lending, purchases, and refinances. We also offer portfolio lending for self-employed borrowers and borrowers with complicated tax situations.
South Florida is where Choice Mortgage Group started, and we like to call it home. We are devoted Florida Atlantic University Owls fans and are proud to be the official mortgage lender partner of FAU Athletics. We also support numerous other local organizations.
For more information about Choice Mortgage Group, visit www.choicemortgage.com.
2424 N Federal Hwy, Suite 100, Boca Raton, FL 33431
(561) 395-6900